Women are known to be natural pleasers, but have you ever wondered how to give your woman a pleasurable and enjoyable time in the bedroom? Every woman has a list of sexual fantasies that she craves to have fulfilled. Whether it's your girlfriend or your wife, she doesn't just fantasise about being picked up and pinned against the wall, the sexual needs of a woman go way beyond that, they want more, they want hotter, they want riskier!
What's the point of generic sex when there's a whole room of fantasies and kinks waiting to help you satisfy your woman and take her to the seventh heaven of thrilling sex?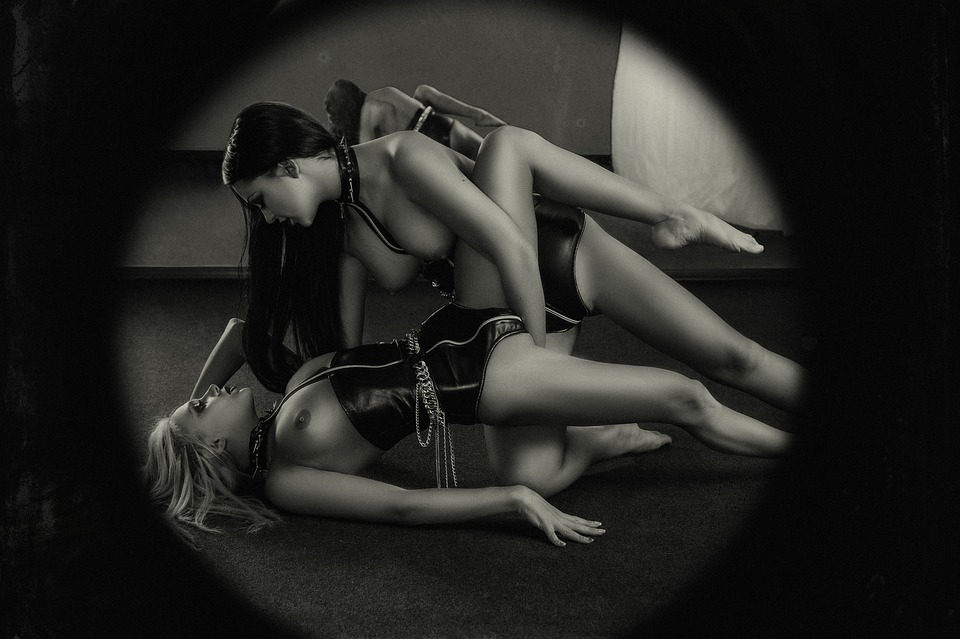 Here's 10 Sexual Fantasies of Women
1. The dominatrix fantasy
A common female fantasy, every woman has a deep sensual desire to dress up in a sexy latex suit with high stilettos as they tie up their partner to the head of the bed and drive them crazy. They fantasise about teasing their partner and making them moan, whipping them and having them suck on their stilettos as they are erotically charged with control.
2. The other Woman fantasy
The hottest part of anyone's sex life is experiencing different, especially what you can't have! Insertion doesn't mean the most pleasurable part always, so women want to achieve an orgasm any way possible. Besides who knows a woman's body better than another woman? Women have wild sexual fantasies of them being felt up by another woman, they want the soft silky skin of another woman to be pressed up against them while they lose their senses to pleasure, achieving a shared fantasy. It's so taboo that it tempts every woman and makes in onto the list of erotic fantasies of a woman.
3. The submissive fantasy
Being thrown against the wall while your partner grabs you and licks your neck, that's what your woman is fantasising about. She doesn't want you to just lie on top of her, she wants you to bend her over the bedroom table and get into with her. A secret fantasy every woman shares is being innocent and inexperienced as she is sexually ravaged.
Don't race to orgasm, treat her through the journey, she dreams of being wrapped in your arms as your fingers slide down to explore her. Every woman has a racy imagination, waiting to bring it to reality.
4. The stranger fantasy
Yes, you read it right. Stranger fantasy is among the 10 sexual fantasies of women. Relationships mean commitment, work and not a lot of play, sometimes a woman just wants to leave her daily chores and expectations aside and break free from the 'good girl' she is and open up her experimental side. That is one of the sexual fantasies of Women. The opportunity of having sex with someone for just their hot physical appeal, a meaningless erotic night of fun and pleasure with someone whose name you don't need to remember or know! No worries, no trouble, just a seductive adventurous night.
A girl doesn't just fantasise about great sex, but kinky sex too, they want to be tied down and whipped, and they want to be made feel so bad that it feels so good. She wants to play with toys to spice the sex up, from vibrators to butt plugs, she fantasies about having her partner have fun with her using those toys. BDSM is a two way street thought, so women often fantasise about wearing a strap on or if their partner is up for it – have their partner wear a strap on to fulfil their women's sexual desire. They want to take control and have the urge to know how it feels to be inside their partner, to make them scream and moan, they want so much pain its pleasure. Whether it's hard-core spanking or just teasing her with a feather, she can't wait to tick this wild sex fantasy off her list!
6. The more the merrier fantasy
A woman has many erogenous zones, the sexual needs of a woman are priority, and they can't help imagining her having them stimulated them all at once. An orgy has always been a fantasy women desire for; they fantasise to cave into double penetration. To be pleasured while gratifying multiple other partners, she wants to be taken care of sexually with room for just arousal and sexual sensations taking over the night. Well, that might sound weird but that's among the 10 Sexual Fantasies of Women.
7. The exhibitionism fantasy 
Showing off their curves and their banging body while having their partner watch, makes sex hotter than it already is. The sexual desire of a woman is to be given attention and watched, to be admired and appreciated for her physical attributes. They want to feel empowered – sexy and strong. A woman wants to be shown off while she stands there naked and exposed, having multiple strangers drool over her sex appeal and beauty, while she secretly enjoys their heavy paced breathing from just looking at her.
8. The role playing fantasy
There are multiple sexy people walking across the street, multiple people we encounter every day, women fantasize often about digging their nails into the backs of hot businessmen, teachers, doctors, maybe even their plumber or milkman! Playing your favourite characters – from Princess Leia to Rachel Zane, they want to savor the fun of taboo situations. Being taken back by your boss in the cafe room of the office or being pounced on by your baby sitter or being helpless on a massage bed as the masseuse takes you through a sinfully intense sensual journey, is the sexy erotic fantasy of women. 
9. The public sex fantasy 
Sometimes it's hard to keep your hands off of your partner, so you turn to take a risk! The fun of it all starts from the risk of getting caught, maybe involving the third person and getting freaky! A woman loves fantasising about getting down and kinky in theatres, in public washrooms, in alleyways, in a park, any place where you can let your imagination run wild and free, take control and increase the heat! That's one among the 10 sexual fantasies of women.
The most taboo of all fantasies, the desire of experiencing it all! Most people classify anal sex as weird sexual fantasies of females. Women love to take on challenges, who say only "bad girls" does it? It's not dirty, it's hot, it's so sensual, so stimulating, and it feels amazing. It takes the feeling of someone inside you onto a whole different level. A woman wants to try and step out of the comfort zone. After all, women love to check off all their wild sexual fantasies on their list. Life's too short to waste it on thinking, just go for it, take a risk and achieve your deepest and darkest sexual desires.