This is the part-2 of the story Her Slave.
It was the weekend and he was super excited. His wife must have planned something special. Bdsm is a very new thing for him but he has been enjoying their little escapades lately and kinky sex. His heart was beating wildly in his chest as he entered his house. As he entered his room he was stunned. The bed was set in a corner and at the center stood two poles. Handcuffs were hanging from the edges. At a side table, he could see some more accessories. Some he could recognise like clamps, gags, blindfolds, etc. And some he couldn't recognise. While he was staring at the setting, out came his wife in her dominatrix attire of leather corset with a whip. She came close to him, took his office bag from his hand and stood aside. Seeing no action from him, she whipped her whip hard and ordered him to get undressed. He obliged.
As he stood naked in front of her, she stared at him. He felt himself hardening. She went behind him and slapped at his ass. He felt a little sting but he loved it. His arousal was, even more, stronger now. She took the nipple clamps and put it on his chest. When he tried to touch her, she tied his hands to the handcuffs on the pole and smacked him again. This time a little harder. He yelped.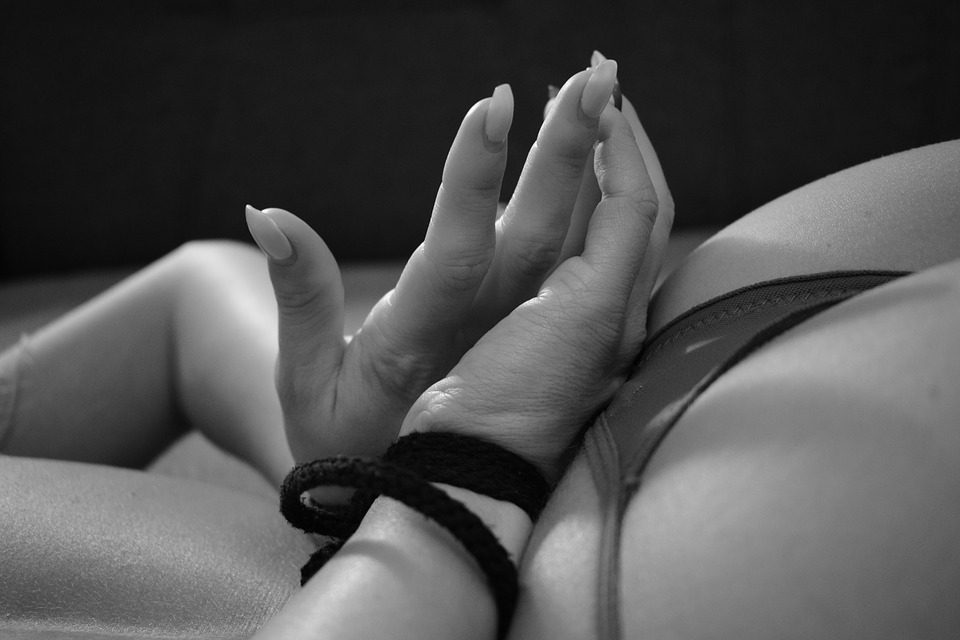 "If it gets too much for you just say stop." She kissed him saying that.
He nodded. He was waiting for what's next. She put a clamp on the tip of his erection and inserted ice cubes in his puckered back hole. He felt the shiver all over inside him. She took some more ice and rubbed them on all his erogenous parts. The chill was causing a little discomfort but aroused him even more with the kinky sex moves. He writhed in ecstasy. She then inserted her fingers inside his hole and fingered him as the ice slowly melted. He had never felt such pleasure before. If not for the clamp, he would have orgasmed multiple times.
His knees were buckling under him. So, she untied him from the cuffs, tied his hands on his back and led him to the bed. She took out a strap on from her cupboard and wore it. He looked at her agape. He wasn't the gay kind but looking at his wife wearing that erection was something else. She came near him, held his head and ordered him to suck. He hesitated but had to do it. In a few minutes, he started enjoying. As soon as the strapon was lubricated sufficiently, she turned him around, applied a lubricant inside his hole and slowly inserted the erection inside him. He felt his hole stretching and with it, he felt a little pain. He wanted to scream but groaned instead. She stopped for a few minutes until his pain subsided and then she started thrusting in and out.
It felt amazing. He felt the pressure building in his groins but the clamps were stopping him from orgasming. After a while, she stopped and turned him around. She undressed. Her breasts were firm, her buds erect and moisture was dripping in between her legs. She untied his hands, laid him down and sat astride him. She removed his clamps and took his erection inside her hot folds. They both groaned together. She bent forward asking him to suck them. He happily obliged. What a kind of kinky sex it was, amazing!
She started moving up and down at a fast pace. Her breath was heavy, her heart was thudding and he was panting as well. In no time, they both came together very hard. She slid on his side and tried to catch her breath. He looked at her and knew they were going to more of have such a wonderful time.