I could hear him arrive at the front door while I was stirring the pasta sauce in the kitchen. My husband had been quite busy with meetings recently and I wanted him to relax a bit. All the planning was done while I was coming back home from office. I had picked up a silky lascivious night dress on my way and all the ingredients to make his favourite shrimp pasta. He had been quite stressed due to his office work and as a result we have had minimal sex. I anyhow wanted to satisfy my husband. Now, this was frustrating since we were a horny couple who had been married recently. Even since we started dating and got married just 8 months after that, we spiced up our relationship and made all the efforts to keep each other happy. As a result, we had amazing sex all the time, whether it be early in the morning or in the evening, just as we returned from office. They say after marriage, life becomes boring but we have been married for more than a year now, yet things seem as fascinating as the first day.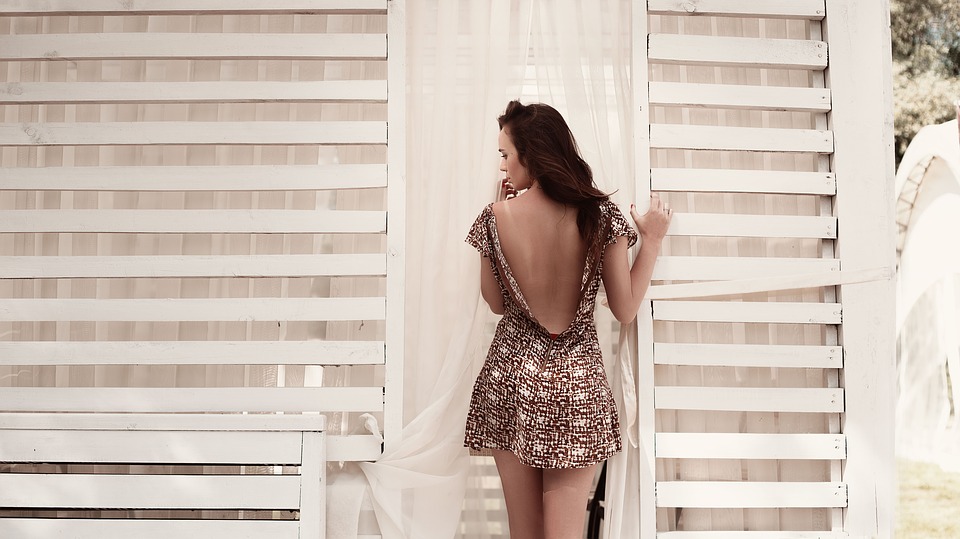 As he entered the house, he kept his belongings on the table and moved straight towards the kitchen. He saw me in the flimsy night dress and gasped. I looked back and said "Hi" in a very discreet manner. His eyes roamed around my entire body, beginning at my cleavage and slowly travelling down to my short hemline. He simply kept staring at me in awe. I wanted to tease him so I continued with my work. He stood behind me, touching my ass softly, tracing his hands through the silky gown, as he noticed that I did not wear any panties. He suddenly pressed his pelvis behind me to alert me that his penis was already up. I pretended not to care. Placing soft kisses behind my neck, he caressed my waist line. He pulled me towards him by my waist and kissed my earlobes as seductively as he could, making me gasp in admiration. I was already wet down there, and I was sure he knew that. At that moment, I was so aroused that I just wanted him to finger me and feel how hot and wet I was.
He teased me by nibbling at my ear and rubbing his rock-hard penis on my ass. I tried the hardest not to just turn around and take his tool inside my mouth when all I could do at that moment was think about it. Somehow, I managed to finish making the pasta and instructed him to bring out the wine. I did not wanted to miss the opportunity to satisfy my husband. He obliged and in no time we were seated in the dinner table. He sat back, sipped his drink while looking at me serve him food. We ate, and chatted all the while, giving ample time for our desires to build up. As we finished and I took the dishes to the kitchen, he came behind me, grabbed my ass and started kissing my neck. All I could do was moan in pleasure as he placed his finger near my clit and rubbed it softly.
He raised my gown over my ass and moved downwards to kiss me down there. Separating my legs, his tongue reached my vagina. His mouth felt warm as he sucked my vaginal lips, moving towards the hole. Suddenly, I gasped with pleasure when he pushed his finger inside and started fingering me vigorously. At the same time, his hungry mouth found its way towards the hole as he licked my juices and kept rubbing my inner thighs. I held the kitchen slab and moaned as loudly as I could. He licks became stronger, and I lifted my hips to assist him. I spread my legs wider and moved my hips to take advantage of his thrusting fingers.
After some time, he finally stood up and I could see the bulge in his pants clearly. In a hurry, I reached to unfasten his pants and dragged them down his legs. His hard dick throbbed in front of me, pre-cum oozing out from its tip. I reached out with a finger and taking some, brought it to my lips to taste. It was delicious and I told him so as I leaned forward to lick the head of his cock. Taking just the head inside, I sucked as swiftly as I could. I could feel him leaning back and then, he grabbed my hair, encouraging me ravish his dick hungrily. Then, pulling out his dick from my mouth, he instructed me to stand on my feet.
I obliged and he lifted me to the slab. Looking at me impatiently, he slid the gown over my head and separated my legs. Then taking his glistening rod-like dick, he pushed it inside my wet and eagerly waiting vagina. Slowly, he kept pushing his dick in a rhythm and I could feel the delightful fullness that I know so well. Our lips met and we devoured each other's mouth. He reached my breast, tugging at the nipples. He kissed my breasts and took the nipple inside his mouth, nipping at the already hardened tip. Cupping my breasts, he sucked them while moving his other hand towards the other nipple and pinching it.
I was in so much pleasure that I pulled him closer and held his head. He humped me and I moved my hips towards him. Slowly, he started increasing his pace and I matched his movements with mine. He rode me harder and faster. His breathing also increased and I knew that he was about to come. Within no time, I could feel his dick deep inside me, throbbing, as he shot his cum. The warmth inside my soaking vagina brought me to an orgasm and I moaned loudly. I was happy that I could satisfy my husband. He brought his lips to mine and we kissed deeply as I collapsed into him while catching our breath. We both smiled seeing each other and slept in each others arm!