He was tied to the bedposts with handcuffs, his legs eagle spread and tied to the other bedposts. A soft humming sound was coming from under him, wearing a chastity belt. He wriggled with pleasure. He was reaching the climax but the coldness of the belt was denying him the orgasm. He looked at her.
She sat there, on her chair, fidgeting with the remote of the vibrator that was in his small puckered hole on his back. Her leather corset and her hunter added to her sensuality. He was not allowed to speak so he pleaded for the release. She smiled, got up slowly from her chair, whipped her whip and walked towards him.
She undressed and sat on his face. He knew what to do. He started eating her. She rubbed her vagina on his face in pleasure and moaned. He lapped her wet hole as it started dripping. She groaned, she was about to have an orgasm. He started toying with her clit and drank her juice as she came.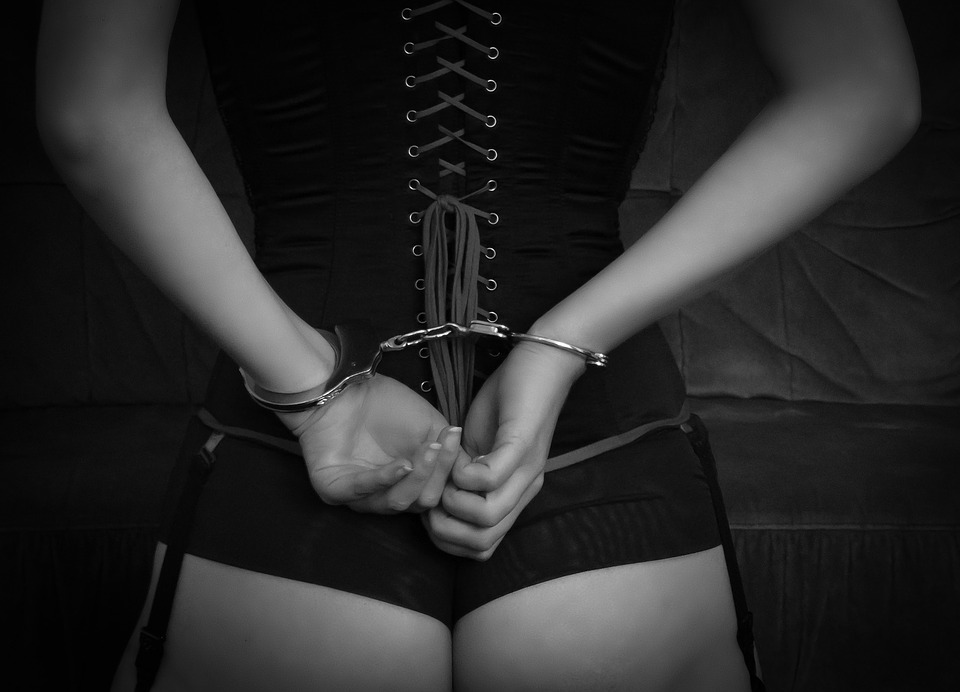 She gathered her breath and got up from his face. Unlocked his belt and increased the speed of the vibrator. He groaned like an animal and spurted hard. His face was relaxed after the release. But the mistress wasn't done yet. She started playing with his balls.
He had just orgasmed, it was hard to get an erection. But if his mistress wanted it, he had to do it. She used a simulator to arouse him again. She worked on his balls and his shaft. He started to get hard again. She stranded him and rode him wildly. He wanted to touch her but couldn't. She inserted her breasts into his mouth. He sucked on her buds obediently. She arched his back, let him suckle on her breasts and she kept riding him. The moment he was about to reach the orgasm, she stopped. He was not allowed to come until she did. She was riding him fiercely and came with a loud groan. And he did orgasmed at the same time.
They both panted, she kissed him and laid beside him.
"Water."
She gulped a mouthful and transferred it in his mouth. He looked at her and smile.
"You need to uncuff me now."
"Okay."
And she unlocked the cuffs and took out his vibrator.
"Are you okay?" She asked with a little concern in her voice.
"Never better. I was a little nervous at first. But I Think I liked it."
She was relieved to hear that. She had always been the dominant kind. Their sex life was not bad, but she wanted this and was afraid her husband might not like it. But one day while they were drunk, she revealed her deepest darkest secret to him. And for her, he agreed.
"This was just the beginning. We will try something else next time. A little more extreme?"
He nodded.
Both of them were pretty much happy with trying new things as they had explored and bought these toys from an online adult sex toy store which sells numerous products.
"Don't worry, you will be safe. I'll give you a safe word. So, if anything goes beyond your liking or comfort, just say it and we will stop." And they hugged. She had so much to do before their next sexcapade.